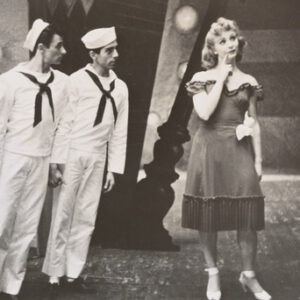 Jerome Robbins Dance Division, The New York Public Library. "Harold Lang, John Kriza, Jerome Robbins, and Shirley Eckl in Fancy Free" The New York Public Library Digital Collections. 1944.


Student Name:

Amelia Haynes
Project Link:
https://mediathread.ccnmtl.columbia.edu/s/CUdnce3985_001/project/51215/
Statement: Watching Jerome Robbins's choreographic works, I found myself captivated by how he stages conflict in such a compelling and seemingly natural fashion. I began to analyze the development of conflict in a variety of his ballets, in an attempt to better understand the choices that underlie his success. The possibilities afforded by the Mediathread tool, such as the ability to juxtapose videos, enabled me to illuminate the similarities in how he stages conflict across his various ballets. Further, personal choreographic notes, interviews, and initial reviews of ballets accessed in the Jerome Robbins archives at the Dance Division of the New York Public Library furthered my understanding of how and why Robbins appears to give his dancers tremendous agency in his ballets.