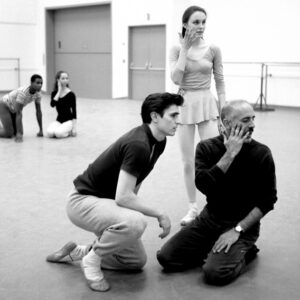 Billy Rose Theatre Division, The New York Public Library. "New York City Ballet rehearsal of "Afternoon of a Faun:" with Edward Villella, Jerome Robbins and Patricia McBride, choreography by Jerome Robbins (New York)" The New York Public Library Digital Collections. 1964.


Student Name:

Ewurama Cann
Project Link:
https://mediathread.ccnmtl.columbia.edu/s/CUdnce3985_001/project/51252/
Statement: This project explores the relationship between gaze and dance. It analyzes the importance and use of gaze in our day to day lives and how Jerome Robbins used the conceptual theories about gaze to further his own choreography. Through intent gaze and planned eye contact Robbins is able to add a new dimension of intrigue and drama to his dances. This course in tandem with the New York Public Library has helped me gain a deeper understanding and appreciation for dance.