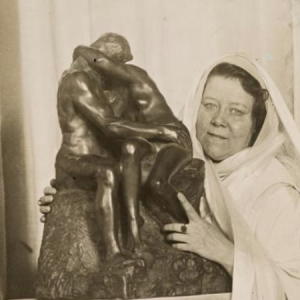 Jerome Robbins Dance Division, The New York Public Library. "Loie Fuller and Rodin's 'The Kiss.'" The New York Public Library Digital Collections. 1916.
Student Name:

Juliana DeVaan
Project Link:
https://mediathread.ccnmtl.columbia.edu/s/CUdnce3985/project/40752
Statement: As an intern at the New York Public Library for the Performing Arts Jerome Robbins Dance Division, my semester research project evolved into an in-depth archival project in which I analyzed data collected from Loie Fuller's collection of programs and newspaper clippings. My understanding of Fuller's artistic community grew massively as I began to see her in relation to the many people with whom she performed, communicated, and collaborated. My project became an exhibition at LPA, a blog post, and a Mediathread composition, which forced me to think about the relationship between the physical archive and digital access in a way I had not before. Because of my exhibition, all of the programs in the Loie Fuller collection (as well as all the photographs and ephemera I pulled for the display) will be digitized, and the next group of "Digital Footprints" students will be able to utilize these resources digitally.