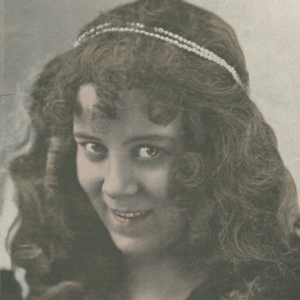 Jerome Robbins Dance Division, The New York Public Library. "Studio head shot of Loie Fuller with string of pearls in her hair." The New York Public Library Digital Collections. 1902.
Student Name:
Juliana DeVaan

Project Link:
https://mediathread.ccnmtl.columbia.edu/s/CUdnce3985/project/40752
Statement:  "Sculpting in Time, Space, and the Dancing Image" is an exploration in merging artistic media through the digital humanities. Analyzing dance on film is difficult without a side-by-side form of reference–this composition attempts to merge analytic, interpretive research of Loie Fuller and her "Serpentine Dance" through the lens of her creative relationship with Auguste Rodin by providing immediate visual reference and comparison of the two artists' work and their relationship as presented in the "Loie Fuller Collection" at the New York Public Library for the Performing Arts, Jerome Robbins Dance Division.