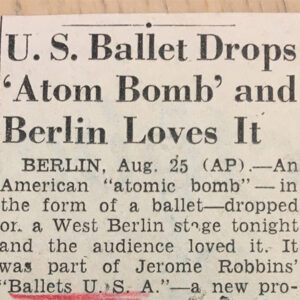 Student Name:

Yuval Dinoor
Project Link:
https://mediathread.ccnmtl.columbia.edu/s/CUdnce3985_001/project/51255/
Statement: For this assignment, I've examined the role dance played in American diplomacy with communist Europe in the mid-twentieth century, and more specifically, how Ballets USA's 1958-1962 tour of Eastern Europe played into that. Dance diplomacy was a platform that shaped the way American identity was conceived on a global stage by embodying key values of Americanness on the physical stage. Particularly through disseminating jazz dance in ballet-centric Europe, Jerome Robbins' Ballets USA choreography offered an oppositional vision of culture liberated from regulations and standards, posing a counter voice to communist social values. I'm interested in this tour and its impacts upon European audiences because it fits into a larger conversation of dance being used as a political tool via cultural diplomacy, starting in the Cold War yet also extending into modern day.
To guide my research of how traits of Americanism influenced Robbins' choreography, I examined primary and secondary sources that offered insights as to Robbins' vision of American characteristics and values, and juxtaposed those against my choreographic analysis of Interplay and N.Y. Export Opus Jazz, two pieces he created in 1958 for Ballets USA's Spoleto tour. Finally, I was curious to see how Ballets USA's work was received by European audiences, particularly in regards to perceptions they gleaned of Americanness from watching the performance; for this purpose, I examined clippings of newspaper reviews of Ballets USA's 1958-1962 performances at the New York Public Library's Performing Arts Archive.