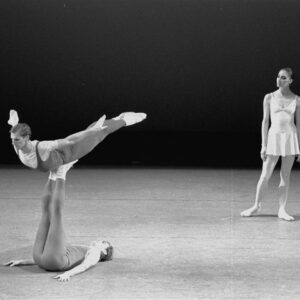 Billy Rose Theatre Division, The New York Public Library. "New York City Ballet production of "The Goldberg Variations" with Peter Frame, (?), Melinda Roy and Roma Sosenko, choreography by Jerome Robbins (New York)" The New York Public Library Digital Collections. 1984.


Student Name:

Maya Weiss
Project Link:
https://mediathread.ccnmtl.columbia.edu/s/CUdnce3985_001/project/51258/
Statement: Jerome Robbins' choreography transgresses a variety of sexual norms, straying from the ballet standards of repressed heterosexual behavior. However, a close analysis of his choreographic choices reveals the strategies necessary to display these taboos on stage. NY Export: Opus Jazz, Goldberg Variations, and Afternoon of a Faun each display a different type of sexual rebellion. In each instance, Robbins uses a different aspect of dance convention to portray radical sexuality in an acceptable way. This project uses videos of Robbins' work as quotations. Each excerpt reveals a compositional strategy Robbins used. These short moments reveal the ways Robbins both celebrated and restricted sexual desire on stage. The majority of dance scholarship relies on descriptions of choreography to support an argument. By using Mediathread as a tool for video quotation, the dance can speak for itself.