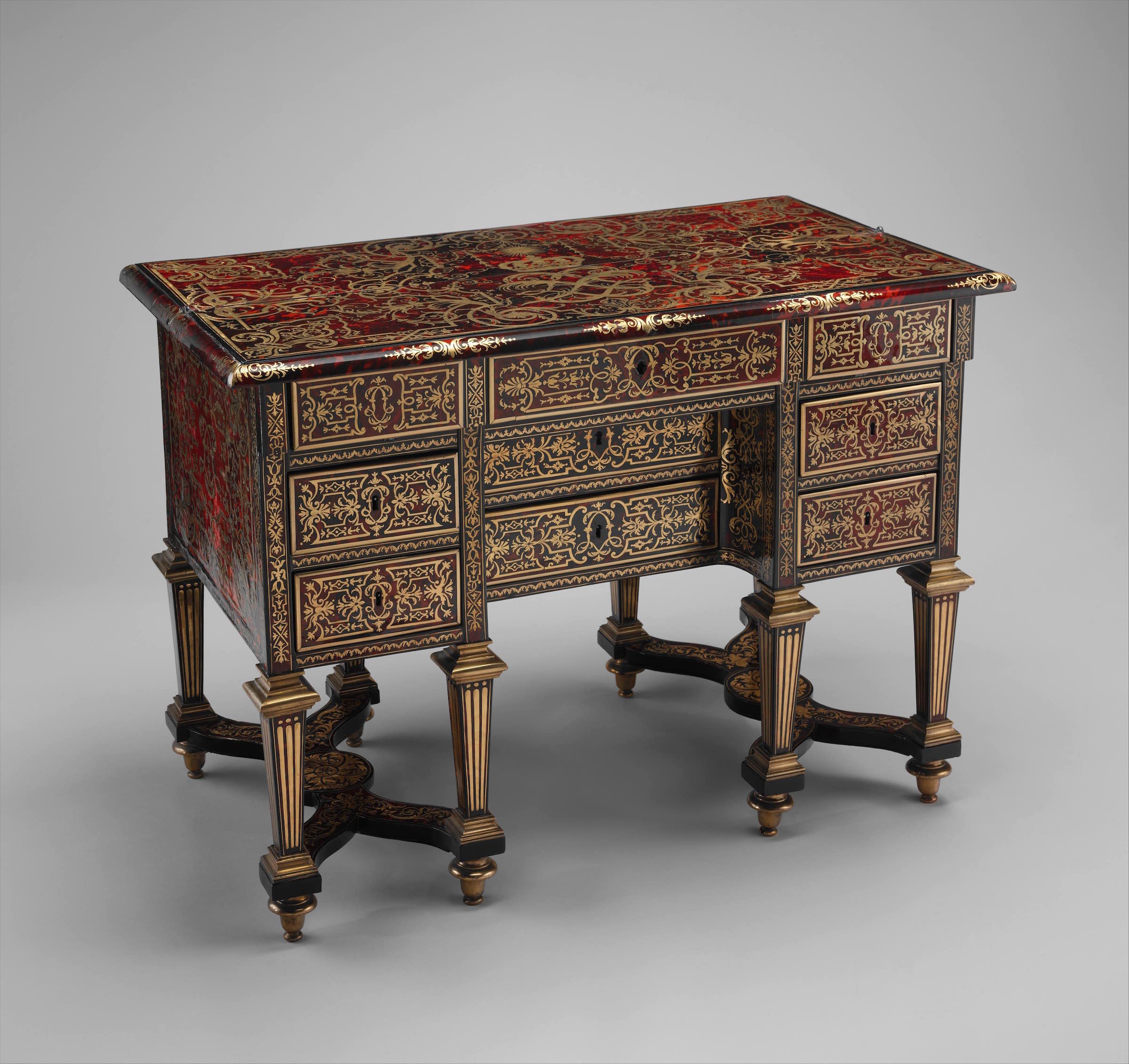 Marquetry by Alexandre-Jean Oppenordt, designed and possibly engraved by Jean Berain, Bureau Brisé, ca. 1685. Oak, pine, walnut veneered with ebony, rosewood, and marquetry of tortoiseshell and engraved brass; gilt bronze and steel. Dimensions: 30 5/16 x 41 3/4 x 23 3/8 in. (77 x 106 x 59.4cm). Metropolitan Museum of Art, Gift of Mrs. Charles Wrightsman, 1986. Accession Number: 1986.365.3. Image map by Emma Snover. 
Note: As you explore the site, hover your mouse over images. If clear highlight boxes appear, click on them to learn more about the object! 
This bureau brisé (broken desk) was made for King Louis XIV in the late seventeenth century. The desk's narrow dimensions provided inadequate space for the papers of royal work, so King Louis XIV instead used this desk in his Petit Cabinet at Versailles, a private retreat from official business. The top of the desk folds up (hence the name "broken desk") to expose a small surface for reading or writing.
Though this desk pre-dates the gender differentiation of desks during the Enlightenment, it offers important references for eighteenth-century desks. For men, the impending eighteenth-century invention of the bureau plat would offer a "more convenient and practical" alternative to this narrow desk so that men could best complete their work (Kisluk-Grosheide 2006, 7). The narrow space and multiple drawers of this desk, however, do not disappear; they become defining features of eighteenth-century desks for women. Considering Louis XIV used this small desk for personal activities, the similar desk size for women during the Enlightenment implies the intended use female use of desks for personal, rather than official, activities.
Continue the story with the Enlightenment.