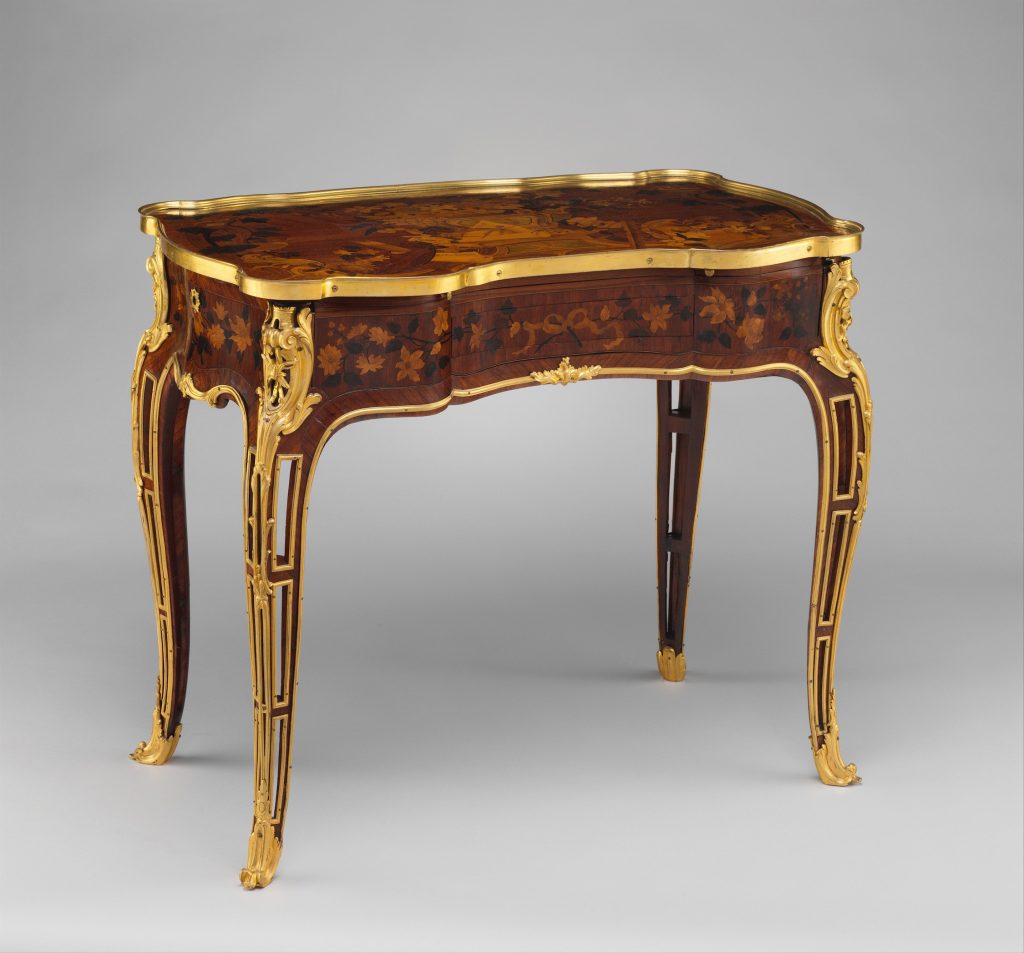 Jean-François Oeben and Roger Vandercruse, Mechanical Table, ca. 1761–63. Oak veneered with mahogany, kingwood, and tulipwood, with marquetry of mahogany, rosewood, holly, and various other woods; gilt-bronze mounts; imitation Japanese lacquer; replaced silk. Dimensions: 27 1/2 × 32 1/4 × 18 3/8 in. (69.9 × 81.9 × 46.7 cm). The Metropolitan Museum of Art, The Jack and Belle Linsky Collection, 1982. Accession Number 1982.60.6. 
Though records cannot confirm that she ever used this mechanical table, designs in the marquetry confirm that ébéniste du roi Jean-François Oeben made this table for Madame de Pompadour. Multiple surfaces and compartments hide in the table's small dimensions. The diverse functions of the surfaces could engage a user in various activities, including letter writing or la toilette. As women were the participants in these activities during the Enlightenment, the table reveals its own gendered use.
The practicality of combining spaces for letter writing and the toilette into one table was a novel Enlightenment idea, reflecting rising values of "comfort, elegance, amenity, and utility" (Goodman 204). The table suited the "spontaneous shifts" of a busy woman's routine (Sargentson 210). 
---
Placing a figure at the table restores the furniture with the qualities essential to its original use. In the image below, Oeben's mechanical table emphasizes, as if to enlarge, Madame de Pompadour's impressive garments. The garments consume and spill out from the space under the table, contrasting the open space under Joubert's bureau plat. The "comfort" of one piece of furniture for various activities becomes reduced by the imposition of these garments.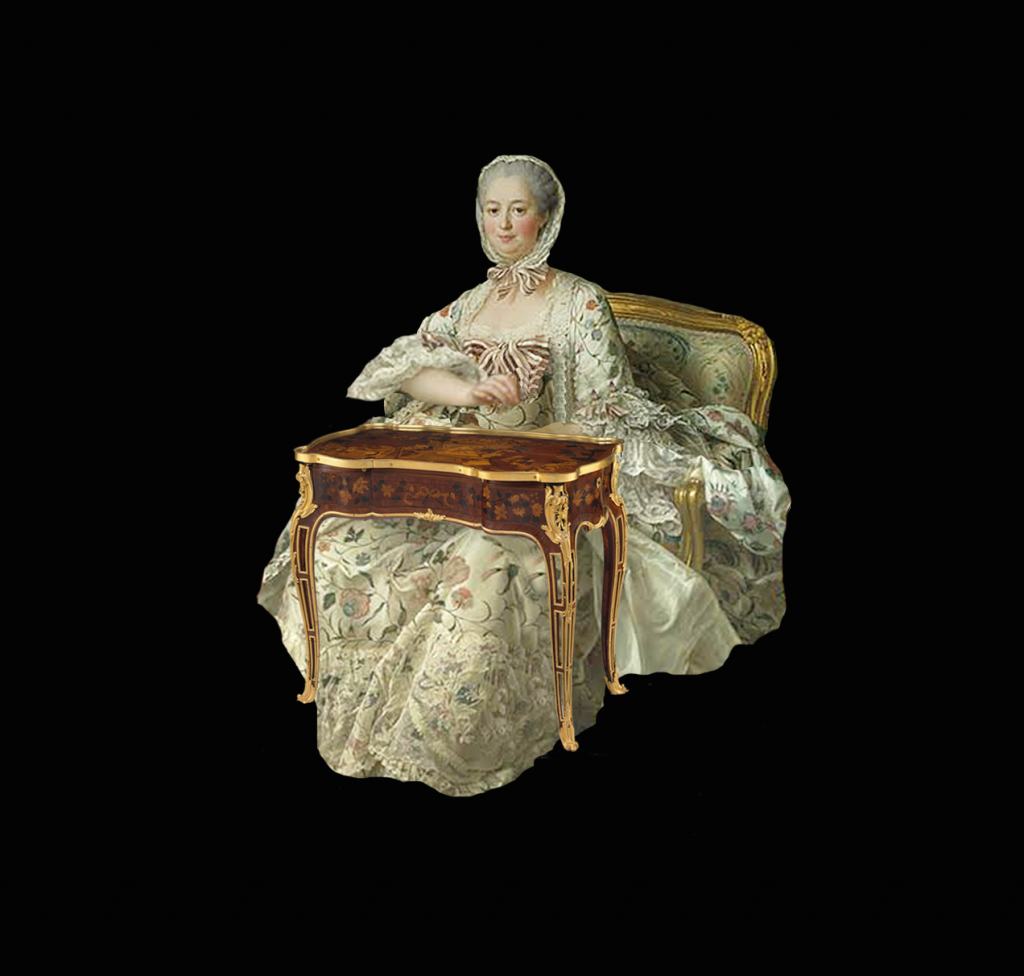 Annotated image of François-Hubert Drouais, Madame de Pompadour at her Tambour Frame, ca. 1763-1764 at Oeben's mechanical table. The image displays how a woman's garments consume the space under their small personal tables. Image by Emma Snover.
---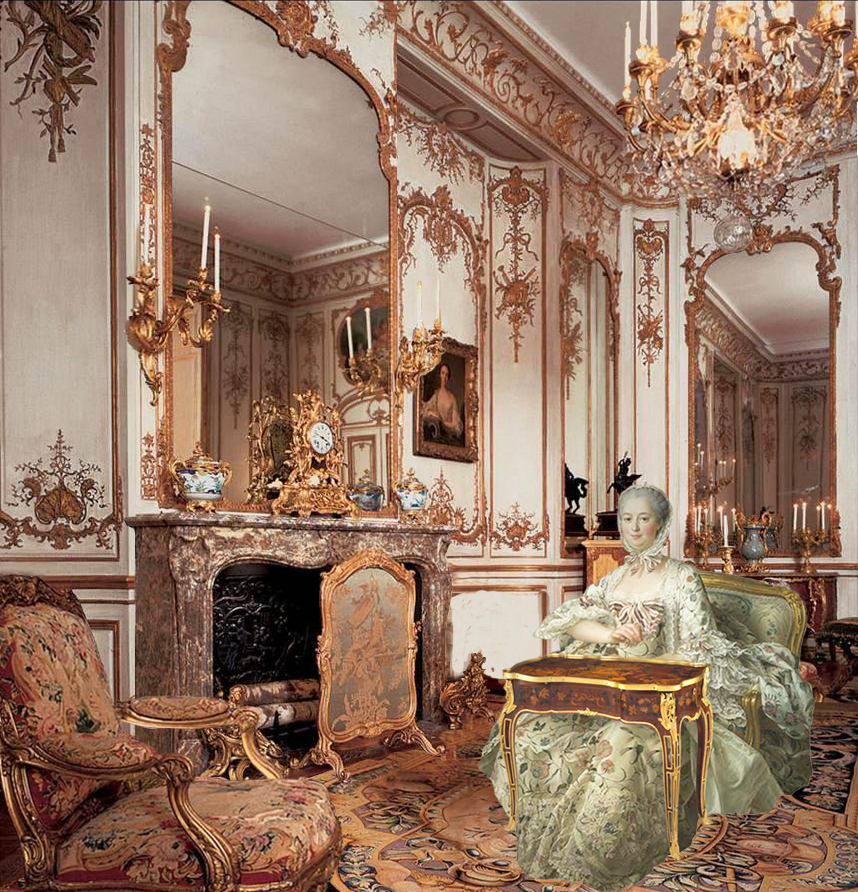 Composite image of François-Hubert Drouais, Madame de Pompadour at her Tambour Frame (ca. 1763-1764) at Oeben's mechanical table (ca. 1761-1763) and placed in the resized Varengeville Room. This image demonstrates the relationship between Madame de Pompadour and her table, as well as the surrounding space. The small size of the table stands out in stark contrast to the large impression of Joubert's bureau plat on the previous page. Here, instead, Oeben's mechanical table draws the viewer directly to Madame de Pompadour's garments, which almost envelop the table in fabric. The many mechanical functions of the table remain hidden, seemingly accessible only to the user, by nature of its own private design. Resized room by Alex Bass; figure and table by Emma Snover.
---
To learn more about how the relationship between the table and its user's identity from Met curator Daniëlle Kisluk-Grosheide, play the video below. 
---
Explore the functions of Oeben's mechanical table: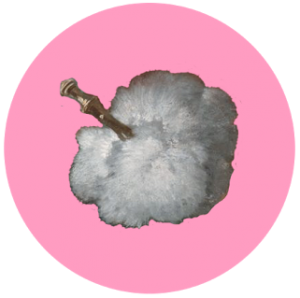 After exploring the functions of the table, continue the story here.