"Tall, though not too tall; beautiful figure; round face with regular features; wonderful complexion, hands and arms; eyes not so very big, but the brightest, wittiest, and most sparking I ever saw…She absolutely extinguished all the other women at the Court, although some were very beautiful" – Dufort de Cheverny (Mitford 27).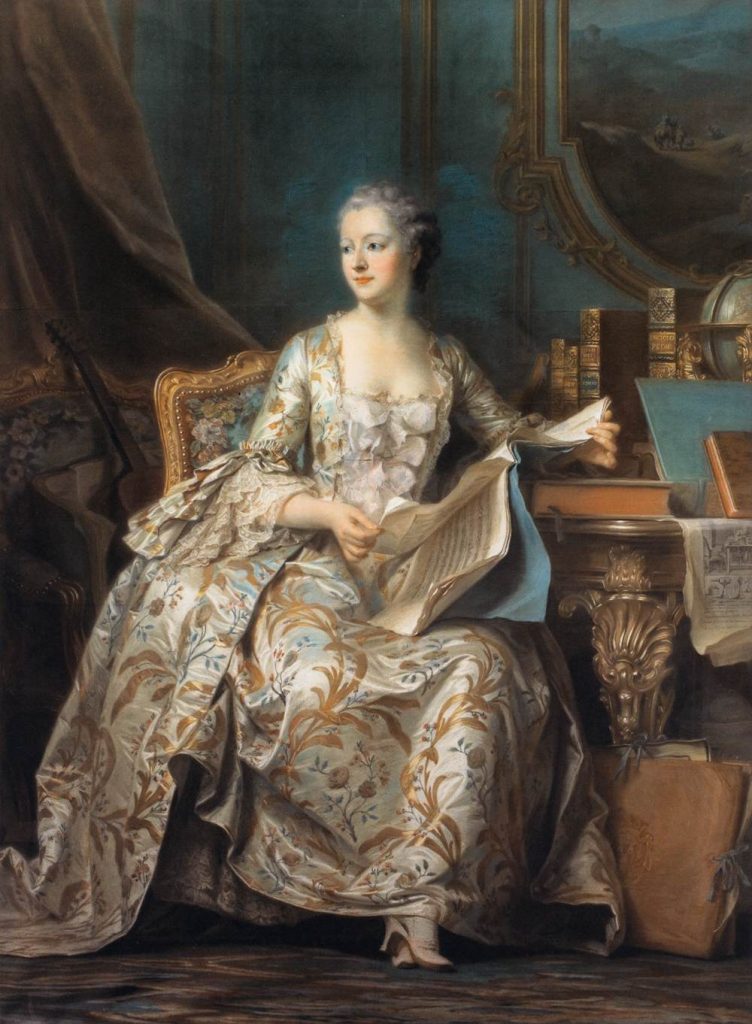 Maurice-Quentin Delatour, Portrait of the Marquise de Pompadour, ca. 1748-55. Musée du Louvre, Paris. Image retrieved from Wikimedia Commons. 
Delatour's painting captures Madame de Pompadour's feminine and political roles. Seated at a bureau plat with books and a globe around her, Delatour presents Madame de Pompadour "in a different idiom—that of the man of law, letters, administration, or affairs" (Goodman 234). Yet, she still wears luxurious garments of cotton and lace, and handles the music score in her hand with grace, implying her femininity. In this dichotomy, Delatour "opened himself to the critique of misrepresenting his subject by violating the gender order" of the Enlightenment (Goodman 234). 
---
Madame de Pompadour (1721-1764) was not born into the French aristocracy. Yet, she captured the attention of King Louis XV in Court and quickly became of great interest to him. As his official chief mistress, Madame de Pompadour embodied a dualism of femininity and political influence. She possessed "far too strong a character" to be restrained by gender expectations (Mitford 99). From 1745 and until her death, she had a private apartment at Versailles that connected to that of King Louis XV through a secret staircase. Here, Madame de Pompadour engaged her passion for interior decoration and the arts. 
Madame de Pompadour "was hardly settled at Versailles before she began to direct and inspire the artists of her day." Her "intuitive understanding of the creative temperament enabled her to make an artist do better than his best" (Mitford 93). Madame de Pompadour assisted with the foundation of the Sèvres porcelain factory (1756) and the designs of the Place de la Concorde in Paris and the Petit Trianon in Versailles (Chateau Versailles). Politically, Madame de Pompadour worked on the Treaty of Versailles and advised King Louis XV throughout the Seven Years' War. Her rare dualism positions her as a unique figure in eighteenth-century France, allowing her to keep the attention of King Louis XV for nearly twenty years. 
Essay by Emma Snover.